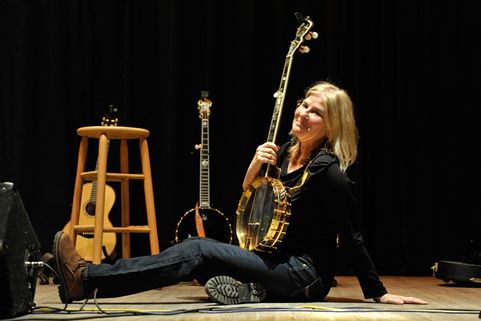 Please join two time North Carolina & Florida Banjo Champion & recording artist Mary Z Cox for an evening of banjo voices great and small—cello banjo, fretless banjo, mermaid banjo, John Hartford banjo, and debuting in concert for the first time ever—the Missing Link baritone banjo. Wait till you hear the voice of this banjo! It was designed by Wayne Rogers & Bela Fleck and Mary Z had it set up for clawhammer banjo for a unique sound.
Since February is the month of love and birthdays and chocolate cake with fudge icing—there will be songs of love –heartfelt and heartbroken, desperate love & love you can only dream about.
Hear fiddle tunes fast and furious-- Banjo beyond bluegrass & blues-- Celtic reels & haunting mountain music gone coastal.
Mary Z's 10th and newest cd, Good Morning Banjo, was played this summer on NPR's Thistle & Shamrock by Fiona, and now its going to be at the Monticello Opera House too. Please join us for this very special evening of fun, laughter, singing and the camaraderie of banjos and beyond.
Tickets: $18-45. Optional preshow dinner package available, catered by Carrie Ann and Company
This is going to be so much fun--please join us--there is an awesome pre-concert dinner and the historic Monticello Opera House is just a wonderful experience.  Here is the link to the opera house where you can go online and get tickets for the concert & the dinner & there is a link to a page of Bed & Breakfast Inns in Monticello --if you're coming from out of town or state and want to spend the night.  This makes a wonderful Valentine's Day getaway :)

https://www.monticellooperahouse.org