WISHING YOU & YOUR LOVED ONES PEACE, LOVE & JOYFUL MUSIC THIS HOLIDAY SEASON :)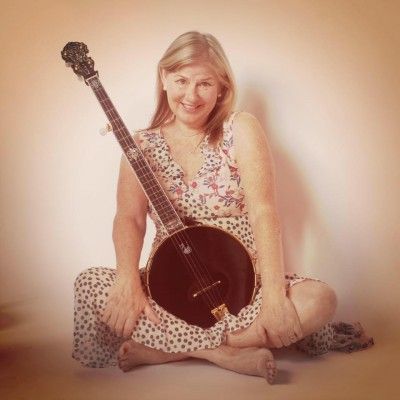 WOW! What a rollercoaster ride of a year 2017 has been! Thank you, thank you all my wonderful banjo, dulcimer, guitar, singing friends & family in Florida, NC, Alabama, & Montana for hosting me for workshops & concerts & jams & recordings & all kinds of musical adventures and fun.  This banjo life journey has been so much fun and filled with love & good camaraderie lately--that I'm not really sure I have a solid destination--its just wonderful meeting happy and joyful folks who want to hear and play good music .
And thank you so much to all the folks who supported me this year ordering my new CD & Tab book--GOOD MORNING BANJO :)
Thanks for the good reviews and thanks to NPR's Thistle & Shamrock Radio for playing it this summer and all the other radio stations that have been playing it & Pandora & Spotify too.  And a special thanks to my fiddle friend, Tim Gardner, who recorded it in his studio and stepped forward & really brought my recorded music up to a new listening level.  :)  
If you do not yet have this CD & tab book & would like to order them for yourself or for a holiday gift for a banjo or dulcimer friend--if you order both from me on my website--I will send you a hard copy of "Girl With the Banjo Tattoo"  CD as your free gift for the holidays!
Do not press the order button for Girl With the Banjo Tattoo--I will include it automatically when I see the 2 item order 
---
PLEASE READ THIS IF YOU HAVE BEEN ONE OF MY LONG TERM CUSTOMERS !!!
Good Morning Banjo is my 10th CD & I really want to record a new CD this next summer of 2018. I have a brand new Goldtone ML-1 baritone banjo & I can't wait for you to hear its unique and wonderful voice. 
But--I live in a small house and I need to find homes for my hard copy cds to make room for the new ones.
I've thought it over carefully & I've decided not to re-print hard copy CDs that have sold out.  All my cds are available digitally & I will continue to offer the print tab books as long as folks order them. 
BANJO DREAMIN SUWANNEE NIGHTS CD HARD COPY is SOLD OUT! 
It can be digitally downloaded on Bandcamp
https://maryzcox.bandcamp.com/album/banjo-dreamin-suwannee-nights
and CDbaby, Pandora, Spotify, Itunes & many other digital sites. 
The tab book for it may still be ordered from my website
---
Also--there are very limited copies left of these CDs
Florida Banjo
Walkin' that banjo home
Chickens Crowin' at Midnight
You may order these from my website and buy them at live shows until they are sold out. The tab books to Florida Banjo & Walkin that banjo home are still available on my website.
---
And here is my holiday special to you if you were waiting to buy some of my cds or books in the future--the time is now at hand :)
If you purchase any two items (cds or books) from my website in December --I will send you a free gift copy of  "Girl With the Banjo Tattoo. "
Girl With the Banjo Tattoo is one of my very best instrumental cds--it had wonderful reviews from Banjo Newsletter & Sing Out Magazine & several tracks from it were soundtracked in a Canadian movie. ITS GOT CELLO BANJO, FRETLESS BANJO, CIGAR BOX BANJO! 
---
2018 is coming fast and there is something special coming up right away!  
The Monticello Opera House has just booked me for "An Evening Of Banjo & Beyond" Concert for Saturday February 17th.  All the details will be up on my website soon--but please mark your calendars now if you'd like to come.  
Those of you that came out 3 years ago to my last concert there will remember how much fun it was & the Monticello Opera House has some of the finest acoustics in Florida & there is going to be a wonderful sit down dinner & did I mention its my birthday month--so Feb birthday celebration & there will be love songs (good & bad) for Valentines & did I mention THERE WILL BE BANJOS ?
---
 And me and my banjos will be at Florida Folk Festival 2018 this year :)
& North Carolina Folks--I'll be back in Western North Carolina all of June & July 2018 and already have one workshop & concert planned--if you would like to host me for a small or house concert or banjo or dulcimer workshops in June or July 2018 in NC, North Georgia, East Tennessee, or SW Virginia during these months--please contact me soon and we can make it happen :)
Please feel free to email me back and let me know how you have been and your musical happenings & hope we will be together again in 2018--picking & singing under a big blue sky on a sunny day or a starry night by campfire, or inside all picking and singing together with the joy of it all :)
maryz@maryzcox.com