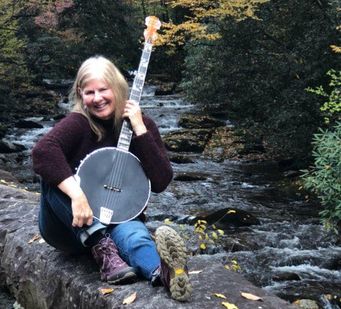 Banjos, dulcimers, apples, pumpkins, turkeys, snowdrops once in a blue moon news 
Happy autumn & winter holidays to friends, family & music lovers.   2019 has been a busy and wonderful year at the Cox house and I just realized that if I don't write my "once in a blue moon" newsletter now—the year will be gone and the new year will totally take over 
Banjo Bluegrass, Blues & Beyond coming up.
North Carolina Banjo Clinic November 7, 8, 9. 2019 Black mountain NC.
There is a whole line up of wonderful bluegrass & old time banjo instructors for a weekend of banjoing galore.   This is my first year teaching there & will be sharing tunes in 4 clawhammer workshops on Saturday November 9th.  The classes I'll be leading are:
Song Study-Snowdrop in Open C, Easy Celtic Reels, Fiddle Tune Medleys for Dancing & Waltzing with Banjos
For all the details go to
Although I only have classes on Saturday—I will be there Friday & Saturday nights at large & could be available for individual lessons too. Contact me by email if you'd like to do that.  maryz@maryzcox.com 
There are a lot of really good banjoists going to be there so it's bound to be fun. Hope to see you there!
Banjo, Bluegrass, Blues & Beyond  November 23rd  @ New Posh
Jennifer & Brian Hill are going to join me at this wonderful log cabin listening room to play and sing some mountain music gone bluegrass and beyond.  We'll be playing some tunes & songs from my new CD –Carolina Banjo as well as old-time and bluegrass favorites. Think Ralph Stanley & Doc Watson suddenly gone girly.  And did I mention that bad boy baritone banjo is gonna be there?   Debbie really makes this a home setting that is warm and personal and the audience & guests all get to know each other.
For more details & information contact Debbie Dix Bishop
                newposh3079@gmail.com  or (850) 528-5838 –there is also a Facebook page—but since it's a home style concert—details usually go out by her email list.
 Blue Tavern December 6th Tallahassee, FL   Banjo, Bluegrass Blues & Beyond –but 3 hours of it—Brian & Jennifer Hill join me again with even more mountain tunes and songs & surprises & fun.   There will be all kinds of fast and slow picking—new songs & old.  Think Doc Watson & Ralph Stanley & John Hartford picking clawhammer banjo & fiddle, guitar, mandolin, bass, baritone banjo & possibly more!  This is gonna be a really fun evening & hope to see you there. 
And that's it for all the public performances for 2019—but please, please mark February 8th 2020 on your calendar for next year for a really totally surprising concert that will be a double header with some of your favorite international musicians combined with February birthdays & the secret mantra is "chocolate cake with fudge icing".    I promise to let you know as soon as the tickets are on sale—because this may be the best concert ever in North Florida & I want all my friends and family & music buddies to be there.  
Thank you to everyone who has been so supportive of the new Carolina Banjo recording & the Carolina Banjo Tab book.  All your kind words about this project have been so appreciated.  Thank you to everyone that has reviewed it & ran articles about it & played it on your radio station. And thank you for everyone who booked me live this year & all the folks who came out to hear the music & especially the wonderful musicians I got to play with this year.
 And it just warms my heart when you come up and introduce yourself because you know me by watching the "Good Morning Banjo "& "Good Morning Dulcimer" on my Facebook page.
 If you did not get a copy of Carolina Banjo or Carolina Banjo Tab Book yet—they can still be ordered from my website.
For Family
 All the kids are coming home for Thanksgiving so Bob & I are looking forward to that and a good visit with Sidney, Satoko, Natalie, Will & Gordon. 
Bob & I have sprung for a little Airstream Bambi 16 camper and we already towed it all the way to California & back for the Priceless Festival & we hope to camp a lot more places this year.
Elvis—our old basset hound is quite peppy & hasn't died yet. He has a tumor on his aorta & they couldn't take it off—so they sewed him back up & he is still running the show at the Cox house. 
Gordon has bought his own home in Tallahassee and is fast fixing it up—can't wait to see it. 
A very merry pumpkin season (they are all over the place in the Carolina Mountains) & a happy & thankful Thanksgiving (with lots of turkey and I hope Joann makes that oyster dressing)
And may Santa bring you love & blessings for Christmas and whatever winter holidays you celebrate. And may the elves bring you new banjos, dulcimers, guitars, mandolins, basses or whatever your heart desires J
Thanks for your love and support,
Mary Z Cox