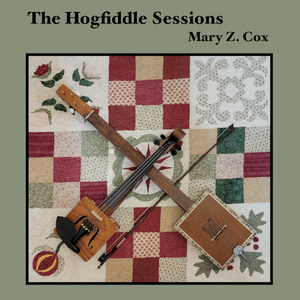 It has arrived!
Live banjo, fiddle & mountain dulcimer.  Its old and new at the same time & hope you will add it to your music collection .
Limited Edition CD $20
Cluck Old Hen, Western Cowboy, John Stinson's #2 Unleashed, Hangman's Reel 138, Pat Do This, Pat Do That/Foggy Dew, Soldiers Joy/Ragtime Annie, Shady Grove, Forky Deer, Down the River I Go Uncle Joe/Mississippi Sawyer, Tamlin/Julia Delaney
All of Mary Z's current CDs & tab books may be ordered directly from this page !
" Mary Z Cox's latest entry, Carolina Banjo, opens with the rousing strains of Foggy Mountain Clawhammer and never lets up in terms of its freewheeling finesse..." Bluegrass Today June 2019  
Banjo, Bluegrass, Blues & Beyond & lots of tasty fiddle, guitar, vocals, mandolin, & of course--lots of mountain banjo & baritone banjo !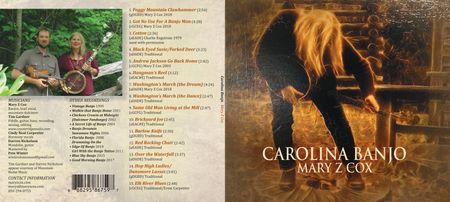 Carolina Banjo $20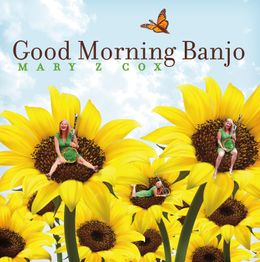 This is what happens when 2 time Florida & North Carolina banjo champion,    
 Mary Z Cox
& Champion North Carolina fiddler
Tim Gardner
get together in October in the Carolina mountains and record.
There's banjo & fiddle live and upfront on some really good tunes & more!
Cello banjo, vocals, mountain dulcimer, guitar & bass. 
Billy in the Lowground, Blue, Snowdrop, I ride old Paint, TamLin/Julia Delaney, Julie Ann Johnson, Swanannoah tunnel, Shakin' Down the Acorns, Bonaparte Medley, All About You, John Stinson's Dream.  
Good Morning Banjo CD $20
Good Morning Banjo Tab Book $20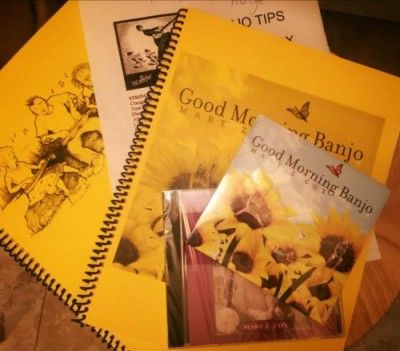 Simple clawhammer banjo tabs to the instrumentals, lyrics to the vocals, &tunings, notes, stories, & tips on playing the tunes :)  
ALSO AVAILABLE
 Blue Sky Banjo CD $20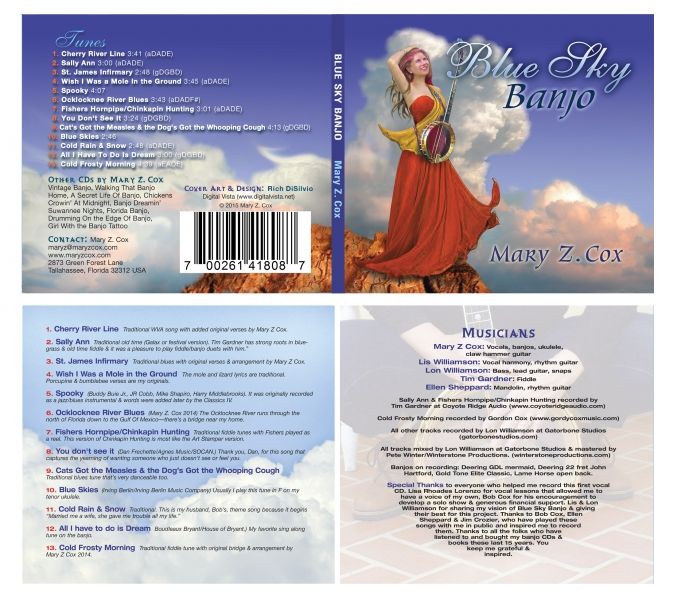 ---
 Cherry River Line, Sally Ann, St. James Infirmary,Wish I Was A Mole In the Ground, Spooky, Ochlocknee River Blues, Fishers Hornpipe/Chinkapin Hunting, You Don't See It, Cat's Got the Measles & the Dog's Got the Whooping Cough, Blue Skies, Cold Rain & Snow, All I Have To Do Is Dream, Cold Frosty Morning
---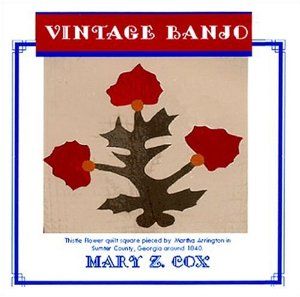 Sally Ann, Dixie, Elzic's Farewell, Johnson Boys, Cindy, Bonaparte's Retreat, Pigtown Fling, Little Black Dog Gone Trottin' Down the Road, Dunsmore Lasses, Cherokee Shuffle, Sheebeg Agus Sheemore, Sugar Hill, Napoleon Crossing the Rhine, Sandy River Belle.
" A simple no-frills collection of old time tunes on banjo...played with great delicacy and restraint. I found myself listening to it repeatedly.." Don Nitchie/editor Banjo Newsletter
---
Banjo Dreamin' Suwannee Nights Tab Book $20