This is what happens when 2 time Florida & North Carolina banjo champion,
 Mary Z Cox & Champion North Carolina fiddler ,Tim Gardner, get together in October in the Carolina mountains and record.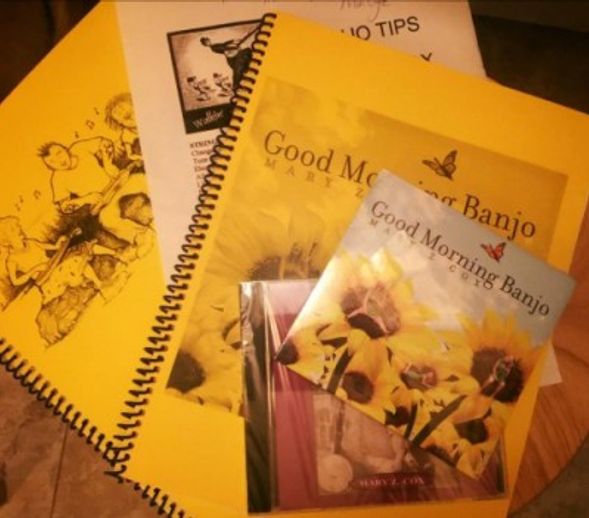 Mary Z. Cox has played banjo since she was 12 and has been a recording artist since 1999. She's recorded 10 CDs, plays concerts & festivals, gives workshops, and authors banjo books.  Her music's been played on National Public Radio's, "Thistle & Shamrock", "All Songs Considered," Pandora World Music Genome, & the BBC.  She's taught claw hammer banjo for over a decade at the John C. Campbell Folk School as well as camps & festivals nationwide, including the Earl Scruggs Center in Shelby, NC, Cal Tech, & the Florida Folk Festival.
Mary Z is a third generation Floridian originally from Brevard County where her paternal grandparents were early settlers of the Indian River Colony.  Her maternal granddad, also a professional banjoist, inspired her early interest in the banjo.
Her video interview in Smithsonian Folkways' "Conversations With Old Time Performers"/ volume II (2015) is the only interview in the series featuring Old Florida music culture and photos as well as many of Mary Z's unique banjos. 
Her photo and banjo music is also featured in Banjo Babes 2016  & 2017 Calendar/ CD compilation.
Good Morning Banjo is Mary Z's 10th CD recorded in Tim's Coyote Ridge studio in Mills River and its full of clawhammer banjo & fiddle & much more.  
"Tim Gardner is an award-winning fiddler, multi-instrumentalist, banjo builder, and recording artist/engineer from the mountains of NC. He grew up in a musical family and is well-versed in a variety of styles including old-time, bluegrass, Celtic, and swing music. Tim is currently fiddling with the bluegrass band Unspoken Tradition and has performed extensively throughout the Southeast at venues such as MerleFest, IBMA Bluegrass Ramble, Suwannee Springfest & Magnoliafest, and many others. His music and craft has been featured on UNC TV, Sirius XM's Bluegrass Junction, WDVX Blue Plate Special, and several other documentaries and radio shows. Tim can be seen performing around western North Carolina with a variety of musical acts."
And there is a Good Morning Banjo Tab book now too !